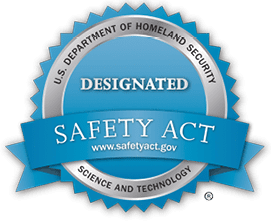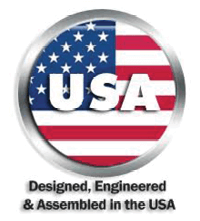 The Ground Retractable Automobile Barrier (GRAB-300) system is an active vehicle barrier that has met test criteria of ASTM 2656-07 M50/P2 (15,000 lb truck at 50 mph, Penetration 3.31' to 23.0'). The system provides ultimate security while providing a less-than-lethal solution utilizing a patented energy absorbing system upon impact. In numerous real-world impacts, GRAB systems have effectively stopped vehicles weighing up to 80,000 lbs and vehicles traveling at speeds over 50 mph.
Active Vehicle Barrier
Unlike a wedge barrier, which can result in a potentially fatal, high-impact crash, the GRAB-300, an active vehicle barrier, deploys an industrial-strength net to capture the vehicle and stop it. Thus, when denied by the GRAB-300, the vehicle is not destroyed upon impact, and the lives of its occupants are preserved.
The effectiveness of the GRAB system can be seen in the report on an incident at Fort Carson, Colorado. A vehicle involved in a high-speed police chase sped through a checkpoint at 65 mph. The soldier on guard duty was able to press a single button to deploy the GRAB system, effectively stopping the vehicle.
see the solution
let's talk 615.551.0706
shop grab-300 parts
ASTM M50 Crash Certified
Energy-Absorbing Technology
Reduced Risk to Vehicle Occupants and Facility
Ability to Be Reset and Be Back In Operation Within Minutes of Impact

Cost-Efficient –

Replaces Multiple Barriers With One GRAB System
Short Stopping Distance
Flexible Design Suitable for Access Control or Final Denial Applications

Reusable System

Interchangeable Part for Quick and Easy Replacement
No Hazardous Materials
Traffic Control Devices Integrated Into Barrier Design
Low Maintenance Requirements
All-Weather Operation
Certified by the US /Department of Defense to Protect Most Roadways From Single Lane to Over 60' with a Single Barrier
Custom Colors Available to Match Facility Design Standards
All-Electric Operation
Two-Second Operation
what they're saying
I want to take this opportunity to let you know how much we appreciate the efforts of you and your team in assisting with our security posture throughout the week of the Democratic National Convention in Charlotte, North Carolina. From the procurement of the fence product itself, to the set up and take down, your staff was professional every step of the way. Our folks and others had nothing but positive things to say about the appearance and functionality of the product. Please ensure your team and leadership receive this as this has been a wonderful partnership that we hope to continue with. Thank you to you and your team again.
As the former Construction Manager for the Front Gate (MILCON) project at Parris Island, SC, it is my pleasure to provide my input regarding the construction of this project. In my view, you and your team, brought unmatched qualities that ensured the successful completion of the Front Gate project. Honesty, diligence, knowledge, competence, reliability, experience, commitment, and professionalism are only some of them. However, the most impressive quality I observed was simply 'wanting to provide a great product'. It was that 'attitude' that helped overcome a wide array challenges in a timely manner. The successful completion of the Front Gate project is a great testament that, with the right people, a project can be done right, in time, and within budget.
Global GRAB is a powerful and strong defense company. The team is extremely helpful and operates a great facility.
The GRAB Barriers were selected because they were considered by the Provost Marshal's Office to be the only Non-Lethal barrier that met or exceeded every State, Federal, and Army Standard for stopping a specific "Threat Vehicle" and with less risk to drivers and occupants.